Anschluss-Terminal Buchse 4PIN + Anschlusskabel
mit 4 Löt-PINs. Geeignet für Platinen mit 2.54mm Lochabstand.
Kabellänge 14cm
Lieferumfang: 1 Anschlussbuchse + Anschlusskabel
Ich versende generell kombiniert mit anderen Artikel, das spart Porto!
1000002068947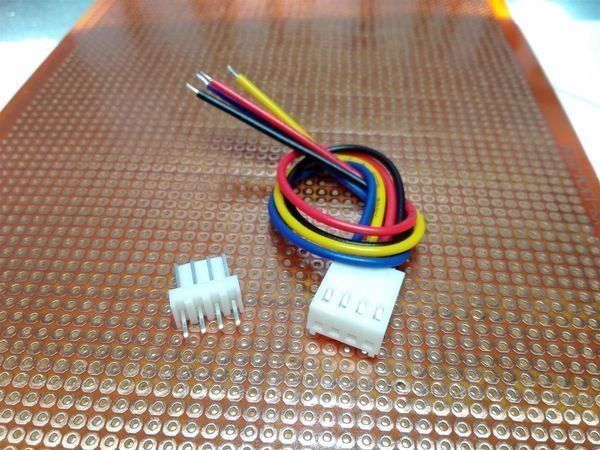 ·         Die Ware ist neu und unbenutzt.
·         Weitere interessante Artikel wie LEDs, Gleichrichter und Elektronikzubehör finden Sie in anderen Auktionen.
·         Kauf ohne Risiko, immer mit Garantie und Rückgaberecht (außer bei Maßanfertigungen).
·         Versandkosten gemäß Angabe. Nutzen Sie den Kombiversand. Egal wie viel Sie kaufen, Sie zahlen nur 1x Porto (Jeweils den höchsten Satz, maximal 7 Franken).
Alle Angebote dieses Verkäufers anzeigen
Beim Kauf von mehreren, auch unterschiedlichen Artikeln werden die Versandkosten jeweils pro Stück angezeigt. Bitte warten Sie daher die Kaufabwicklung ab. Dort werden die Versandkosten von mir aktualisiert.
Abholungen sind aus logistischen Gründen leider nicht möglich.
Generell mit Garantie und Rückgaberecht (bei Massanfertigungen keine Rückgabe). Garantie verfällt bei Missachtung der Vorgaben, zum Beispiel Überlast bei Modulen etc.
Ich freue mich immer über ein Feedback, ob eine positive Bewertung oder eine Mail bei Problemen. Auch ich bewerte meine Handelspartner einige Tage nach der Transaktion.
Verkauft werden nur der/die in der Beschreibung angegebenen Artikel, nicht auf den Fotos eventuell weitere erkennbare Gegenstände.
Zahlungsmethode: PayPal, Banküberweisung. Bei Bareinzahlung am Postschalter bitte 3.50 Fr. zusätzlich für Gebühren hinzurechnen. Danke.
Connection terminal socket 4PIN + connection cable

With 4 soldering pins. Suitable for boards with 2.54mm hole spacing.

Cable length 14cm

Scope of delivery: 1 connection socket + connection cable
I generally ship combined with other items, this saves postage!
• The product is new and unused.
• Other interesting items like LEDs, rectifiers and electronics accessories can be found in other auctions.
• Purchase without risk, always with warranty and return right (except for Custom orders).
• Returns as indicated. Take Combined Shipping. No matter how much you buy, you pay only 1x postage (each the highest rate, maximum 7 francs).
Buyer of several different items the costs are displayed per unit. Therefore, please wait for the purchase. There, the Shipping costs from me to be updated.
Collections are logistical reasons not possible.
Generally with warranty and returns (for Custom orders no return). Warranty does not apply disregard the specifications, for example overload with modules etc.
I am always happy to receive your feedback, whether positive review or a mail in case of problems. I also value my trading partner a few days after the transaction.
Sold only of / the products given in the specification, may not be in the photos more recognizable objects.
Payment methods: PayPal, bank transfer. For cash payment at the post office please 3:50 Fr. added expect additional charges for. Thank you.